Lava Flow and Earthquake Resources for Puna
Contacts
Activity Summary
by phone
:
1-808-967-8862
Call Now
Senator Ruderman's Facebook page is Updated Regularly with Additional Information – Please Fact-Check any information you read posted online from unofficial resources.
Update July 17th, 2018:
For residents of Leilani Estates who may have been denied FEMA assistance: "Due to some limits on our abilities to conduct inspection in some of the evacuated areas, those residents may in fact be eligible for rental assistance. They should be encouraged to return to the DRC and request a re-inspection. This is not an appeal of their case, just a re-inspection of their home."
Official Resources
View More Maps Showing the Locations of Lava Features:
https://volcanoes.usgs.gov/volcanoes/kilauea/multimedia_maps.html
Webcam images: (View Leilani)
https://volcanoes.usgs.gov/volcanoes/kilauea/multimedia_webcams.html
Photos/Video:
https://volcanoes.usgs.gov/volcanoes/kilauea/multimedia_chronology.html
Lava Flow Maps:
https://volcanoes.usgs.gov/volcanoes/kilauea/multimedia_maps.html
Definitions of terms used in update:
https://volcanoes.usgs.gov/volcanoes/kilauea/extra/definitions.pdf
Overview of Kīlauea summit (Halemaʻumaʻu) and East Rift Zone (Puʻu ʻŌʻō ) eruptions:
https://volcanoes.usgs.gov/volcanoes/kilauea/extra/background.pdf
Summary of volcanic hazards from Kīlauea eruptions:
https://volcanoes.usgs.gov/volcanoes/kilauea/extra/hazards.pdf
Recent Earthquakes in Hawai'i (map and list):
https://volcanoes.usgs.gov/hvo/earthquakes/
Explanation of Volcano Alert Levels and Aviation Color Codes:
https://volcanoes.usgs.gov/activity/alertsystem/index.php and https://pubs.usgs.gov/fs/2006/3139/
Lava viewing information:
ADDITIONAL CONTACT INFORMATION:
askHVO@usgs.gov
The Hawaiian Volcano Observatory is one of five volcano observatories within the U.S. Geological Survey and is responsible for monitoring volcanoes and earthquakes in Hawai`i.
Red Cross safety tips:
BEFORE AN EARTHQUAKE:
Protecting your family
• Talk about earthquakes with your family so that everyone knows what to do in case of an earthquake. Discussing ahead of time helps reduce fear, particularly for younger children.
• Check at your workplace and your children's schools and day care centers to learn about their earthquake emergency plans.
• Pick safe places in each room of your home, workplace and/or school. A safe place could be under a piece of furniture or against an interior wall away from windows, bookcases or tall furniture that could fall on you.
• Practice DROP, COVER and HOLD ON in each safe place.
• Make sure you have access to NOAA radio broadcasts:
• Find an online NOAA radio station
• Search for a NOAA radio app in the Apple Store >> or Google Play>>
• Purchase a battery-powered or hand-crank NOAA radio in the Red Cross Store
• Keep a flashlight and any low-heeled shoes by each person's bed.
Protecting your home
• Bolt and brace water heaters and gas appliances to wall studs. Have a professional install flexible fittings to avoid gas or water leaks.
• Do not hang heavy items, such as pictures and mirrors, near beds, couches and anywhere people sleep or sit.
• Install strong latches or bolts on cabinets. Large or heavy items should be closest to the floor.
• Learn how to shut off the gas valves in your home and keep a wrench handy for that purpose.
• Place large and heavy objects and breakable items (bottled foods, glass or china) on lower shelves.
• Anchor overhead lighting fixtures to joists.
• Anchor top-heavy, tall and freestanding furniture such as bookcases, china cabinets to wall studs to keep these from toppling over.
• Ask about home repair and strengthening tips for exterior features, such as porches, decks, sliding glass doors, canopies, carports and garage doors.
• Learn about your area's seismic building standards and land use codes before you begin new construction.
• Have a professional make sure your home is securely anchored to its foundation, as well as strengthening tips for exterior features, such as porches, decks, sliding glass doors, canopies, carports and garage doors.
Protecting your Pets
• If it's not safe for you to stay in your home during an emergency, it's not safe for them either!
• Get a crate large enough for your pet to stand and turn around. Include supplies for your pet in your emergency kit, or assemble an emergency kit for your pet and keep items in an accessible place and store them in sturdy containers so that they can be carried easily. Your kit should include:
• Sturdy leashes, harnesses and/or carriers to transport pets safely and ensure that they can't escape.
• Food, drinking water, bowls, cat litter/pan and a manual can opener if you pet eats canned food.
• Medications and copies of medical records stored in a waterproof container.
• A first aid kit.
• Current photos of you with your pet(s) in case they get lost. Since many pets look alike, this will help to eliminate mistaken identity and confusion.
• Information on feeding schedules, medical conditions, behavior problems, and the name and number of your veterinarian in case you have to foster or board your pets.
• Pet beds and toys, if easily transportable.
• Make an evacuation plan for you and your pets. Many hotels and shelters do not accept animal guests, other than service animals.
DURING AN EARTHQUAKE
Staying Safe Indoors
• DROP, COVER and HOLD ON!Move as little as possible – most injuries during earthquakes occur because of people moving around, falling and suffering sprains, fractures and head injuries.
• Try to protect your head and torso.
• If you are in bed, stay there, curl up and hold on, and cover your head.
• Stay indoors until the shaking stops and you are sure it is safe to exit.
• If you must leave a building after the shaking stops, use stairs rather than an elevator in case of aftershocks, power outages or other damage.
• Be aware that smoke alarms and sprinkler systems frequently go off in buildings during an earthquake, even if there is no fire.
• If you smell gas, get out of the house and move as far away as possible.
• Before you leave any building check to make sure that there is no debris from the building that could fall on you.
Staying Safe Outdoors
• Find a clear spot and drop to the ground. Stay there until the shaking stops.
• Try to get as far away from buildings, power lines, trees, and streetlights as possible.
• If you're in a vehicle, pull over to a clear location and stop. Avoid bridges, overpasses and power lines if possible.
• Stay inside with your seatbelt fastened until the shaking stops.
• After the shaking has stopped, drive on carefully, avoiding bridges and ramps that may have been damaged.
• If a power line falls on your vehicle, do not get out. Wait for assistance.
• If you are in a mountainous area or near unstable slopes or cliffs, be alert for falling rocks and other debris as well as landslides.
Download Free Red Cross Emergency App (Download at redcross.org or Apple or Playstore.)
About the Red Cross
The Red Cross is a non-profit humanitarian organization which provides assistance to meet the immediate emergency needs of those affected by disasters. All Red Cross assistance to disaster victims is free. The Red Cross is not a government agency; it depends on public contributions to help others. Your gift supports the lifesaving mission of the American Red Cross in your community, across the country and around the world. To send a contribution, mail your check to American Red Cross, 4155 Diamond Head Road, Honolulu, Hawaii 96816 or make a secure online donation at redcross.org/hawaii or call (808) 739-8109.
For more updates, follow the Hawaii Chapter of the American Red Cross on Twitter at @HawaiiRedCross. You can also contact the Hawaii Chapter at 808-734-2101 or visit redcross.org/hawaii.
International News
Sydney – We're all rattled right now': Hawaiians brace for long upheaval
State Senator Russell Ruderman said he's experienced many earthquakes, but the magnitude-5.4 quake that hit first "scared the heck out of me". Merchandise fell off the shelves in a natural food store he owns.
When the larger quake followed, he said he felt strong shaking in Hilo, the island's largest city that is roughly 45 minutes from the rural Puna area.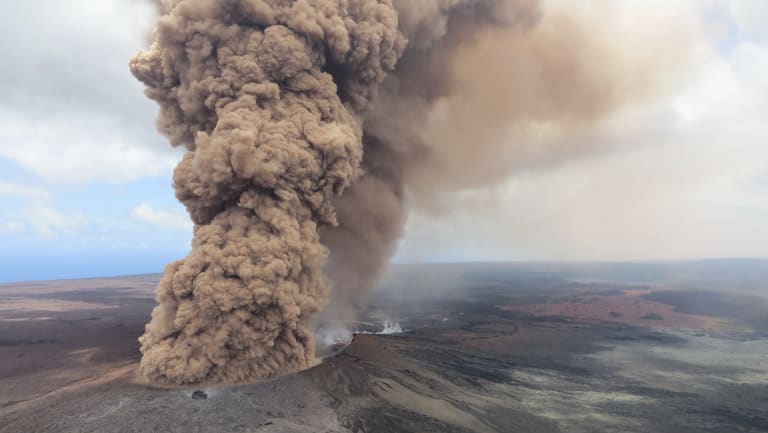 "We're all rattled right now," he said. "It's one thing after another. It's feeling kind of stressful out here."
Hawaii Volcanoes National Park evacuated all visitors and non-emergency staff. The quakes triggered rock slides on park trails and crater walls. Narrow fissures appeared on the ground at a building overlooking the crater at Kilauea's summit.
Local News
For regular video updates check out Big Island Video News Earthquake and Lava Coverage and other national video news footage at Google News.
More News Coverage
Hawaii's Kilauea volcano jolts with lava, quakes and gasMerced Sun-Star
New lava vent opens overnight in Leilani Estatesstaradvertiser.com
Quakes, lava and gas: Hawaii residents flee volcanic threatsStar Telegram
Magnitude-6.9 earthquake strikes Hawaii's Big Island near volcanic eruptionFOX 8 News Cleveland
No reports of damage after huge Hawaii quakeWBNS-10TV
The Latest: Some residents frustrated with lava evacuationThe Wichita Eagle